Planning the appropriate marketing activities in your own company is a difficult task. Fortunately, you can make this task easier if you use the available tools skillfully. One of them is Google Trends, thanks to which you will learn which topics and issues are most popular among Google search engine users.
How to use this information in doing business? What is Google Trend and why do you need to know this tool better? Check how skillfully you use it to support your company's marketing activities.
Every day, Internet users enter millions of queries into the Google search engine. No need to convince anyone that this vast amount of data and information is valuable when planning marketing strategies for companies in various industries. Google does not collect this information solely for itself. The American giant shares them through many free tools. Google Trends is one of them.
What is Google Trends?
As the name implies, Google Trends allows you to get acquainted with current trends in the search engine. With this tool you can control what interests users and topics that attract their attention. However, it should be emphasized that Google Trends does not focus on reliable statistics, but only illustrates trends in a particular area. If you want to know the actual number of searches for this keyword, you should use other tools, such as Keyword Planner.
The numbers presented in Google Trends have a slightly different meaning – they take values ​​from 0 to 100, where 100 means the highest popularity of this trend. Whereas 0 should not be used because the user does not search. In this case, this value means that there is not enough data for this Google phrase.
You are probably wondering how such a tool can help you run your business. There are many possibilities. You will use information from Google Trends in the process of positioning the site, for example, to analyze keywords.
It's also a great tool for finding topics for content creation, such as blog articles. Google Trends is also used to track the seasonality of products, services and issues, making it easy to plan promotions in advance.
How do I get started with Google Trends? – Basic information
Some tools from Google can be wonderful, and using them without proper knowledge is quite difficult. Fortunately, this is not the case with Google Trends. It's an intuitive tool, and you'll quickly understand what it's all about. However, this does not mean that Google Trends data does not require proper analysis and interpretation. But let's start first.
In the search box, enter the password or topic you want to analyze. In the example below, you can check the problem as "Search Time" or "Subject".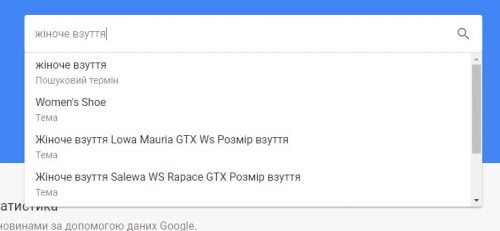 When using the "Search term" option, you will go to a page with a lot of interesting information.
When analyzing a keyword, Google Trends allows you to use different filters – you can choose the country, time range (from the last hour to the last 5 years), category of interests (for example, Home and Garden) and search engine type (except Google search, it can be such as image search or YouTube search engine).
In the graph, indicating the level of interest in a given period, you will find other additional information.
Further information from Google Trends – "Related Topics" and "Related Queries". You can use this data to add to your list of key keywords or to expand the topics of future articles that you publish on your corporate blog.