We have developed a program of practical online help in digital marketing and branding dali_win and dali_win assistant. You are doing your business and dali_win with practical tools. helps to develop it more efficiently, faster and more accessible

We have more
than 10 years
experience

We developed
over 200
brands

We led more than
2500 successful
campaigns
Our goal – effective and available marketing and branding. We have developed a program of practical online help in digital marketing and branding – dali_win
WITH dali_win YOU WILL REACH EFFECTIVE RESULTS BY CHANGING YOUR IMAGINARY ABOUT ADVERTISING.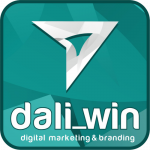 Now each company, each brand has its marketing and advertising activities.
dali_win
program:
Analyzes your pages in Facebook / Instagram and the site (errors in the conduct and filing of information)
Offers practical tips specifically for your marketing activity.
Provides practical and effective information for your business.
Monitor your pages on social networks and offers creative posting options.
Develops a layout from our creative designer.
Distributes information about you business in thematic web-resources.
Your goal
3 Month
12 Month
Benefits

SMM_win

FACEBOOK & INSTAGRAM

450$

1200$

From 7 creative posts per week in Facebook&Instagram

Unique content and post design

Spam&competitors monitoring in communities.

Feedback with users

Working with a negative and finding useful info in you sphere

Involving new subscribers

Effective targeting

Recommended paid advertising - from $ 100 / month.
Max_win

750$

1500$

You lead your Brand in Internet with #dali_win
#Dali_win edits your web site, Facebook&Instagram, Google my business pages

SMM (posts, comments, followers)
SEO (articles, content, site support)
Design for SMM and SEO
GoogleAds and targeting (10% of total budget)
BONUS: free online support for you Brand by our SMM-specialists, SEO, content managers

Full_win

1400$

2800$

#dali_win leads your Brand in Internet with you

#Dali_win provides full service in digital marketing, branding and innovative strategies for your Brand in Internet:

admins your web site, Facebook&Instagram, Google my business pages
SMM (posts, comments, followers)
SEO (articles, content, site support)
Design for SMM and SEO
GoogleAds and targeting (30% of total budget)
BONUS: a fixed SCRUM manager will coordinate the cooperation of our team (SMM-specialists, SEO, designers etc.) with you