Nearly everyone now has free Internet access, allowing companies to tailor ads to their recipients, as well as to more accurately target the target group of people. Advertising on the Internet has already surpassed the press, radio, and probably will soon overtake the television version in its popularity and effectiveness. To identify the key path of promotion, you should read the tips that will facilitate the development of the company.
What elements should you pay attention to when creating your image on the Internet?
There is an opinion that if a company is not on the Internet, then it does not exist at all – let's analyze whether this is true. Even though most businesses today already have their own websites or shops, they don't necessarily use the potential offered by online promotion! For this reason, we have created a list of the most important elements that should be taken care of to create a unique brand image and quality.
● Meet your future clients
Are you in an industry that needs a lot of experience? In this case, recipients will certainly appreciate if your ad focuses on the most important thing first – you show that you know what you are talking about and offer only proven solutions. In addition, meeting the needs and desires of your customers is the key to success, especially when it comes to effective online advertising and attracting attention.
● Present your cooperation and recommendations
Nothing inspires more credibility than the presence of recognizable companies in the list of clients with whom you, as a company, have been in contact. Whenever possible, showcasing your abilities, additional client references, and positive feedback is a sure way to highlight the success and quality of your work. It has long been known that the image of a company is determined not only by the objects, but also by what cooperation with others looks like!
● Be an expert at what you do
Customers who are interested in a particular product or service usually look for it in companies specializing in this industry. For this reason, you should create your own good brand image and rely on skills, years of experience and acquired knowledge to create affordable materials.
The most popular recent videos on the company's website or YouTube channel, specialized texts, webinars, online trainings, and podcasts that are convenient to listen to almost anywhere.
● Don't forget to hold regular events for your image
Building a brand image is not only one-time actions responsible for the success of the entire project. To gain an impeccable reputation and reap the benefits of your business, you should remember that you regularly need to work on your image – you need to follow today's rapidly changing trends. The best effect when it comes to online marketing for companies is not just combining valuable content with an attractive website design.
● Use the potential of all channels
While websites are the most interesting audience, there are many channels through which you can reach your customers. Among them, e-mail marketing stands out – it is a form of e-mail campaign that, by adapting to a narrow group of recipients, provides valuable content and effectively attracts new customers.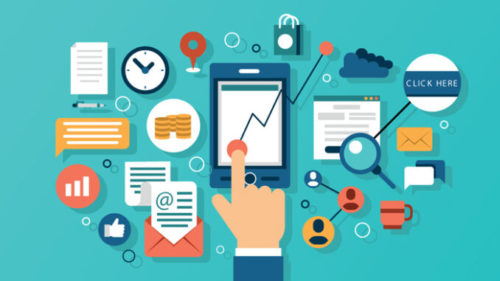 Why should you use the services of a marketing agency?
The services of a professional marketing agency can be invaluable if your goal is to attract loyal customers, increase brand reputation and achieve better results. Behind this success is a team of experienced professionals responsible for promotion on the Internet, in the local market and in many other areas.
● Increased ranges
Cooperation with a marketing agency is, first, opening up entirely new opportunities for your brand and expanding the maximum range of products or services. To achieve this, specialists prepare an accurate advertising campaign that matches the nature of the product or service, and then implement effective methods – one of them is advertising on the Internet, as well as in other cities.
● Breakthrough competition
Now there are thousands of similar products on the market, which makes it difficult to identify your particular product. At such moments, the help of professionals from a marketing agency becomes invaluable. Thanks to marketers, even an ordinary product can intrigue the buyer. Loyalty programs, promotional events, tastings or free distribution of product samples are a particularly popular way to conduct advertising campaigns.
● Effective online customer acquisition
Since we mentioned earlier that the Internet is the most important medium for the distribution of advertising, it should be emphasized which activities contribute to this. The help of a marketing agency will allow you to create a website or store that will have precise positioning for the highest search results.
In addition, an integrated approach allows you to create a positive style of the company.
Why is a good image so important for a company?
Life goes by at a fast pace, so you cannot delay. This also applies to advertising. To attract attention, companies must meet the needs of the recipients or stand out in some way. Therefore, we pay attention to the factors responsible for the development of an online company, and also emphasize the elements that focus on the brand image.